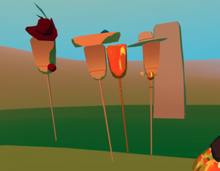 The Special Bond Between Sweepers and their Brooms
When a player receives their special broom from Burniece during their union member initiation, any time the player spawns a broom in The Under, it is the broom Burniece made for them with love. Once they have joined the union and have spent time bonding with their broom, they can ask to learn what their broom's secret name is! If you hold your broom's head to your ear holes and ask nicely you may be able to hear it speak...
This was inspired by Jester and their broom, Chester, the first broom in The Under that gained the ability to speak. Their sweeper bond was so profound their friendship imbued Chester a life of their own, and is able to float around freely and visit with Timesprites even if Jester is busy with other union matters.
Austin
[
]
Broccoli
[
]
Bonded to

Sally

Self-named
Broomniece
[
]
Chester
[
]
Bonded to Jester
Married to Natalie Portman
Voiced by Kelley Pierre
Enjoys creating bands and having concerts
David Bowie
[
]
Bonded to Vicky
Golden and hums
Dotty
[
]
Ennui
[
]
Teddy
[
]
Tinky Winky
[
]
Angelina Jolie
Arthur Morgan
Batman
Barack Obama
Betty White
Bonded to Two Golden Eggs
Bob
Booker
Bonded to Small Golden Coaster
Brad Pitt
Bonded to Golden Clock
Blessed by Burniece
Brie Larson
Broom of the Arch
Alexo's broom - given to, and now under the care of, Big Egg
Gilded in gold as a blessing from Alexo
Bubbles
Cillian Murphy
Darth Vader
Denzel Washington
Diddy Kong
Dwayne The Rock Johnson
Elizabeth Warren
Ellen
Fox McCloud
Bonded to Big Egg
In a relationship with Izzy
Ganondorf
Glados
Honey
Idris Elba
Izzy
Jack
Jack Black
Jennifer Aniston
Jezebel
Jim Carrey
Jiminy Cricket
Bonded to Small Golden Life Preserver
Jon Hamm
Jordan Peele
Keanu Reeves
Leonardo DiCaprio
Link
Lloyd Irving
Luigi
Madonna
Marth
Bonded to Big Golden Dog
Previously under the possession of Den Mother, but has since been rescued
Messiah
Morgan Freeman
Natalie Portman
Bonded to Golden Wetfood
Married to Chester
Nicholas Cage
Bonded to Golden Beach Ball/Plant
Oprah Winfrey
Bonded to Unchanged Snail
Heirloom broom formerly bonded to Mephistophles
Peter Parker
Princess Peach
Heirloom broom formerly bonded to Jebediah
Ryan Gosling
Bonded to Unchanged Coffee Cup
Heirloom broom formerly bonded to Christopher
Shaq
Bonded to Small Golden Rose
Sigourney Weaver
Bonded to Unchanged Clock
Hammerhead broom
Sir Ian McKellan
Bonded to Unchanged Broom
Sir Patrick Stewart
Bonded to Big Tart
Heirloom broom formerly bonded to Constance
Steven
Steve Carell
Tina
Bonded to Unchanged Salt
Self-named
Tiny sized
Tina Fey
Tingle
Tinkerbell
Uncle Ben
Will Ferrell
Winona Ryder
Bonded to Small Golden Tomato